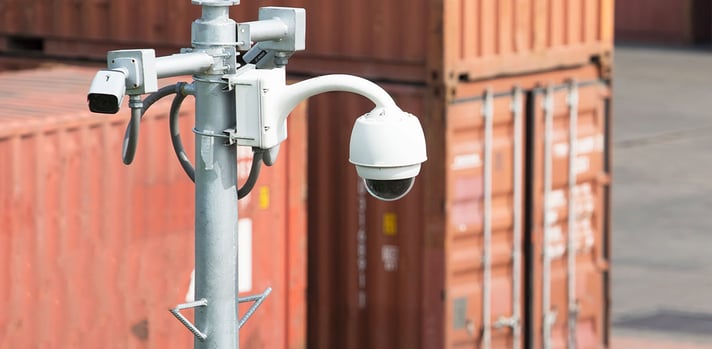 Cargo theft has been a problem for a long time. In the old West, outlaws on horseback would stop a train at a desolate location and rob goods from the railroad cars, sometimes using dynamite to blow open locked freight car doors and safes containing valuables.
Today, thieves' methods may have changed, but the problem of cargo theft remains. In fact, it is a bigger threat than ever. According to Loss Prevention Magazine, estimated cargo loss in the U.S. is between $15 to $30 billion dollars annually, with an estimated average loss value of $250K per incident.1 Even Jesse James and Butch Cassidy couldn't approach those numbers.
Cargo thieves are opportunists, seeking the path of least resistance and whatever they can sell quickly on the black market. They typically look for easily accessible targets first and worry about what's inside the trailer second.
Prime areas for cargo theft are truck stops, distribution centers, loading docks and parking lots behind large retail stores, supermarkets, and wholesale clubs…virtually any place where trailers loaded with cargo could be left unattended by operators believing a padlock on the container door is sufficient protection.2 Activity peaks on nights and weekends.
The most frequently stolen items are food and beverages, electronics, and home and garden products1 (commodity items that are small, easy to carry, easy to sell, and perhaps easy consume the evidence).
Trailers with little or no security measures are the first to be targeted. Choosy thieves may look for trucks with environmental controls, indicating the presence of more desirable shipments needing to be kept refrigerated.
Six Tips to Safer Cargo
Here are six tips to help harden your security posture to prevent cargo theft1,2:
Never leave loaded trailers unattended whenever possible. If this proves unavoidable, post an on-site security guard to patrol the area.


Inspect warehouse/loading dock/truck security measures. Make sure basic security assets such as parking lot lighting, exterior fencing, entry gates, and building door alarms are in proper working order. Equip vehicles with steering wheel locks and GPS tracking technology.


Make sure all trailers are secured with high security compliant barrier seals in addition to hardened padlocks. The more effort required to break in makes it more likely the thieves will move on to an easier target.


Instruct long distance haulers to not stop for the first 200 miles/4 hours after leaving their departure point. Thieves tailing a truck to its first stop typically will not travel that far.


Face container doors toward the interior of the storage yard, as opposed to perimeter fences. Maintain a line of sight to all cargo container door access points.


Install a video surveillance system with live remote video monitoring at sites with large volumes of trucks, trailers, and cargo containers. Don't just record criminal events as they happen – prevent them. A smart video monitoring system with motion-activated cameras not only captures all activity 24/7, but it also alerts security officers to events in real-time for immediate response.
Titan Blended Services: The Best of All Worlds in Fighting Cargo Theft
At Titan Security, we got your six. In military parlance, that means we've got your back. And for purposes of this article, it also means look to Titan for help, especially with Tip #6.
Our industry-leading live remote video monitoring system not only records events, it also employs smart analytic cameras with motion detection technology that automatically alerts Titan command center personnel to suspicious activity in real-time. '
Trained Titan dispatchers have direct access to deterrence methods such as voice downs, lights, and alarms to warn-off would-be criminals or, when necessary, call in a Titan patrol for a live on-site response or the local authorities as appropriate.
Some security firms specialize in providing live guard services; others focus on installing surveillance technology but stop short of offering live remote monitoring. Titan's blended approach to security brings the proper balance of remote monitoring services, live patrols, and state-of-the-art technology together to enable complete 24/7 protection at minimal cost.
Contact Titan Security for all your security monitoring service needs to make sure your assets are protected from theft.
1https://www.assuranceagency.com/blog-post/11-tips-for-cargo-theft-prevention-on-the-road-in-warehouses
2https://www.travelers.com/resources/supply-chain-management/5-tactics-cargo-thieves-use