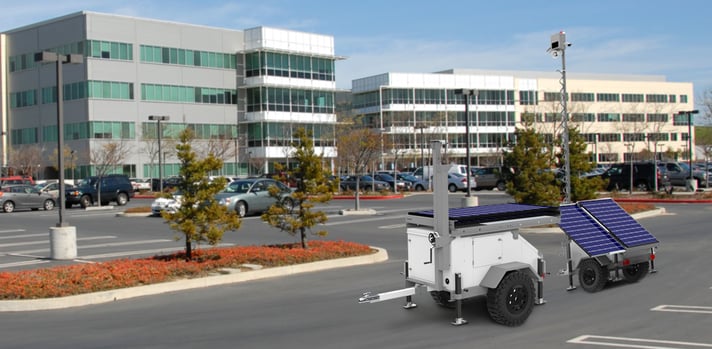 Whether you're managing a construction site or a parking lot, a corporate office or a multi-family residential, live security monitoring has become an increasingly popular solution to prevent theft, property damage, and ensure the safety of anyone or anything occupying the space. Less expensive than having security guards on premise, a permanent surveillance system provides 24-hour monitoring, with strategically placed cameras, all watched over by a trained team on hand to catch—and act upon—suspicious activity as it happens.
While more affordable than having an on-site security presence around the clock, a traditional fixed surveillance system is still is a financial investment, and many companies have looked into mobile security systems such as Titan's Virtual Guard as a lower-cost option. A mobile security camera trailer covers a site, offering 360-degree coverage that's live-monitored. These systems are quite effective, but is a mobile system right for your specific security needs? Before making the call, ask yourself these questions:

How quickly do you need your security system installed?
Very often, the reason a property owner or manager looks into a security system is because their site has just experienced a trespass that resulted in a theft, vandalism, or a violent act. When that's the case, fast deployment and installation is vital. One major benefit of mobile security systems is that you're not held up by electrical or infrastructure requirements you may experience when setting up a fixed monitoring system. Mobile units can generally be installed in a matter of just a few days.
Is your site temporary or permanent?
A permanent security system is ideal for retail properties and office buildings, but what about temporary sites such as construction areas, or short-term renovation projects, or limited-time events like carnivals? Mobile surveillance systems are versatile, ready to go wherever and whenever you need them and require less equipment, complex wiring, and other installation requirements. This is also a big benefit to owners of parking facilities, who don't want to have to trench wire through their lot.
How challenging/remote is your location?
If you need security for a property in an off-grid location where electricity is limited, a self-contained, a portable surveillance unit is a good option. Mobile surveillance systems are generally self-sustained and run on batteries and solar power, so electricity is not a factor. And with Titan's Virtual Guard, limited internet access isn't an issue either; it offers cellular-based monitoring, keeping our cameras recording and our command center connected.
What is your budget?
At Titan, we understand every company's security needs are different… and so are their budgets. That's why we offer a variety of services, from on-site security guards to live, remote video monitoring to blended services. Titan's Virtual Guard—our newest security service—was added in large part because of how affordable mobile surveillance services are. Virtual Guard is ideal for construction sites, parking lots, and remote outdoor environments.

Another key feature is that Virtual Guard can be paired with our patrol services. And since it is monitored around-the-clock by highly trained in-house team, our dispatchers are quick to alert them—or the police when needed—the moment any suspicious activity is detected. This leads to faster response times since it will be prioritized as an incident in progress.

Interested in using a mobile surveillance system? Contact Titan Protection today to learn more about Virtual Guard and the many other security monitoring services we provide to keep your property, and anyone who uses it, safe and secure.