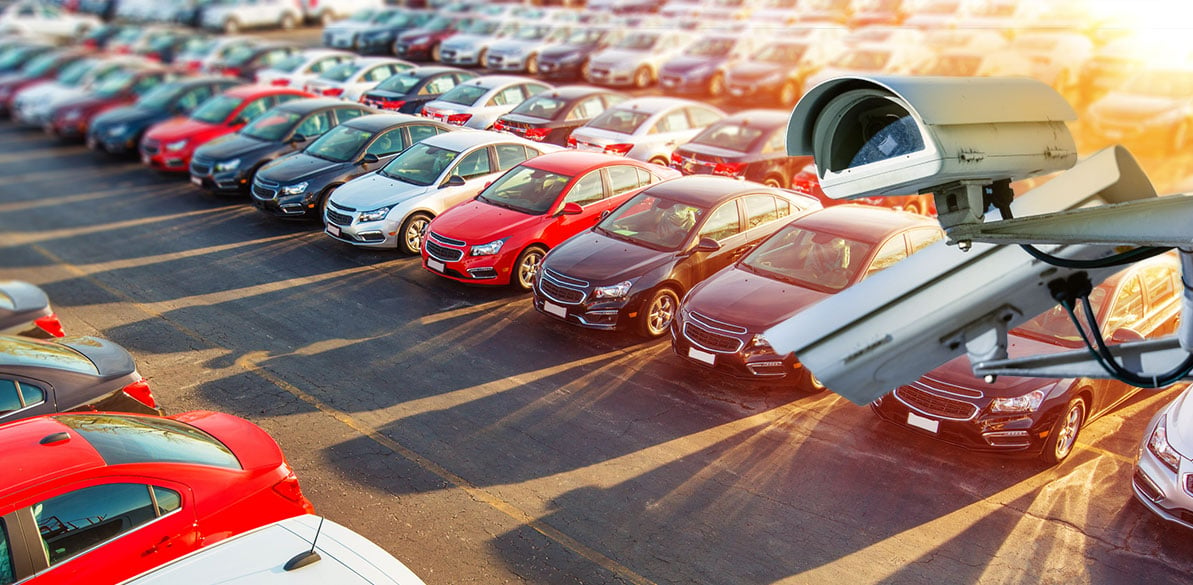 Security has become a growing concern for automobile dealership owners nationwide. Given the lighting challenges for expansive vehicle lots, dealerships become a prime target for criminal activity after dark, from car break-ins, parts theft, and vandalism to outright motor vehicle theft and even acts of violence.
A poorly monitored auto dealership isn't simply dangerous; it can be expensive. If it's proven that you have not provided a reasonable level of protection in your dealership and a crime occurs, your business will be held responsible.

And while the definition of what exactly is meant by 'reasonable' may be murky, what's crystal clear is this: It's vital that your dealership's exterior area is safe for your customers and for your employees.

Hiring on-site security guards can cost a bundle. An auto dealership video monitoring system, however, is a wise and cost-effective way to offer that assurance. The benefits of live video monitoring for your auto dealership are innumerable.

We'll discuss the top five in this article and provide more information on our cost-saving Virtual Guard system.
The Benefits of Surveillance Cameras
As noted, hiring on-site security guards to protect your auto dealership during all hours can be prohibitively expensive. The best alternative is installing video surveillance cameras, strategically placed around the dealership to provide a bird's eye view of the premises.

These cameras make it possible to view all exterior dealership activity in real-time and from a remote location. Any unusual activity will be picked up at once, keeping the dealership safe from intruders.


Other advantages of auto dealership video monitoring include:
Prevention of vehicle theft and other forms of crime




Dealership lots are easy targets for thieves. Constant surveillance of your auto dealership keeps potential criminals at bay as they fear being spotted and arrested. And just the sight of these cameras can reassure your customers and staff that their safety is a top priority.

24/7 video monitoring of cameras

Recording activity at your auto dealership isn't enough. You need active surveillance around the clock by a team that will take action as an incident happens. At Titan, our Security Operations Center can either deter criminals by talking through the cameras, activating warning lights or alarms, or, if the situation warrants it, alert the police

Faster response times
And when police receive an alert from a monitored surveillance system, they know suspicious activity is taking place and that it's not a false alarm. This triggers a rapid response time, as it will be prioritized as an incident in progress.


Cost Effective
The cost of protecting your auto dealership with an on-site security guard — or guards, depending on how expansive your facility is — can really add up quickly. If the dealership needs to be watched around the clock, those numbers will climb significantly. Having a monitored surveillance system is more affordable; in addition, it can cover more ground, including areas a guard can't access.

At Titan, we know every company has specific security needs and budgets, so we offer a variety of camera surveillance plans that can be tailored to meet your needs.

Reliability
Compared to traditional security guards and alarm systems, camera surveillance provides a more accurate overview, including timing of incidents at the auto dealership. It's even better if you have an advanced surveillance system on your premises. Technology such as thermal imaging and infrared enables cameras to catch things that the human eye may miss.

Titan Virtual Guard
Think a monitored surveillance system is a solution for protecting your dealership? Titan offers a monitored, portable surveillance system, Virtual Guard, that's ideal for auto dealerships and several other outdoor environments. And unlike traditional, fixed-surveillance systems, with Virtual Guard you don't need a lot of hardware, such as cabling.
Additionally, it can be installed quickly — often within one week — and is easy to move throughout your dealership lot to provide maximum coverage. Virtual Guard can also be paired with in-person patrol services from our highly trained in-house team.
Contact Titan Security for all your auto dealership video monitoring needs to make sure your auto dealership is protected from theft.